Welcome to Market Edge!


Whether you are a first time investor, a seasoned pro, an "in and out" day trader or a long term investor, Market Edge will provide you with the tools you need for success in today's dynamic markets. Combining fundamental analysis from Standard & Poor's with Second Opinion®, the leading Buy/Sell stock timing service, Market Edge gives you more timely and actionable ideas than any other research offering.

In addition, you will receive daily and weekly market commentary designed to keep you on the right side of the market as well as daily stock alerts.

With Market Edge, you really can find The Right Stock at the Right Time®.

As a subscriber to Market Edge you will receive:
Daily Analysis on 4,000 Stocks and ETFs
Standard & Poor's Star Ratings plus Fundamental Data
Daily Market Commentary with Market Timing Signals
Powerful Interactive Charting with Trading Signals and Conditions
Idea Generator - Combines Technical and Fundamental Screening Capabilities
Short Term Trading Ideas
Industry Group Analysis
Point & Figure Chart Breakouts & Alerts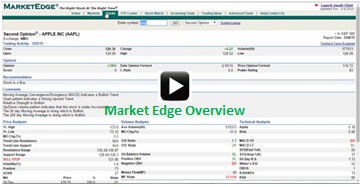 Click here to try Market Edge® for FREE today!


Not a Subscriber yet?
Click here to try it for FREE today!

Market Recap (11/22/17)
Market At-A-Glance
Index
Close
Day
Chg
Day
%Chg
YTD
%Chg
DJIA
23526.18
-64.65
-0.27
19.04
DJ TRAN
9626.66
11.94
0.12
6.44
DJ UTIL
757.73
-0.24
-0.03
14.88
NASDAQ
6867.36
4.88
0.07
27.57
NYSE
12390.83
4.94
0.04
12.06
AMEX
2600.15
12.20
0.47
12.66
S&P 100
1144.50
-0.35
-0.03
15.44
S&P 500
2597.08
-1.95
-0.08
16.00
RUS 2000
1516.76
-2.13
-0.14
11.76
10 YR BOND
2.32
-0.04
-1.69
-5.31

Dr. Market Edge Answers Your Questions

Dr. Market Edge is always here to answer your questions.
Click here to see a list of featured questions.


Market Edge Learning Center

Want to know which way the market is headed? Tired of trying to figure out when to buy and when to sell? Does looking at charts leave you confused? Enter the Market Edge Learning Center and learn how to do all of these and much more. [ Click here ]